Fermilab's Community Organization
What is NALWO?
NALWO, created in the early days of Fermilab as the National Accelerator Laborator Women's Organization, was an important source of connection for the spouses and families of Fermilab employees and visitors, particularly when there was not so much available in the nearby communities. It also provided a connection between Fermilab and people in the surrounding communities through some of the activites it sponsored. In more recent years, the need for this organization has been waning, as well as the energy and availability of participants dedicated to continuing the services it had earlier provided. The list below gives an idea of activities previously supported or organized by NALWO. While currently not active, the organization remains available as a possibility for those who might want to renew efforts in these or similar directions in the future.
To reach the most recent members of the NALWO Board, contact nalwo@fnal.gov.
Village Library
With help from Fermilab's Housing Office, NALWO collected books, especially children's books, many donated by local bookstores and libraries, and housed the collection at the Vending/Laundry building on Sauk Blvd., which has 24 hour access. The library is on the honor system. We suggest that borrowed books be returned in 3 weeks. The library is still in progress to our knowledge, and available to those living in the Village. If you are interested in this, or have donations, please contact us at nalwo@fnal.gov.
The maternity closet, created by the Fermilab Mothers at Work Program, is now located in the Fermilab Children's Center. Those interested in using or donating clothes should make an appointment with staff at the Children's Center at x3762.
NALWO sponsored three recreational dance groups open to everyone from Fermilab and the surrounding communities, using the space at Kuhn Barn for dancing. The groups were open to members of the public as well as the Fermilab community and engaged people of all ages. International folk dancing was held weekly on Thursday evenings, "Silk and Thistle" Scottish country dancing was weekly on Tuesday evenings, and English country dancing was held monthly on Sunday afternoons. These groups hope to resume dancing a new venue when it is safe again to hold social dance activities. For information about this, contact Mady Newfield at 630-584-0825 or folkdancenews@gmail.com.
NALWO held programs such as cooking demonstrations, crafts workshops, lectures, and informal music programs. Although occasionally presented by outside guests, most of these programs were prepared and presented by members of the lab community. If you have ideas for activities, contact nalwo@fnal.gov and we will do our best to help you.
Calendar
NALWO no longer maintains a separate calendar. For public (currently virtual) events, please go to the Labwide Calendar.
Trips
NALWO also sponsored day trips to places of interest in Chicago and the surrounding area such as museums, ethnic neighborhoods, architectural walks, and natural parks.
Potlucks
NALWO hosted potluck dinners the Village open to anyone from the Lab community and their guests.
Cooking Demonstrations and Cookbooks
The NALWO Cookbook: For the 2011 Spring Tea, NALWO created a cookbook as a gift for the former lab director's wife, Barbara Oddone. This book is a retrospective of what we chose as some of the best recipes from the last 25 years of NALWO cooking demonstrations. The following additional cookbooks are available in PDF form:
For questions and information send e-mail to nalwo@fnal.gov; or contact individual Board Members. If you would like to be added to the NALWO NEWS email list to receive information on upcoming events, please go to this link to subscribe, or send a request to nalwo@fnal.gov.
Reimbursement form for event leaders
Please download by clicking on this link, and submit to the NALWO Treasurer.
---
Postcards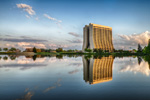 Postcards and note cards are available for purchase at the Lederman Center to raise funds for NALWO.
---